Coolest Places to Travel in 2021
Ah, 2020: the year the world was grounded and told to sit in a corner. The pandemic kept millions from the joys of discovering, connecting, and exploring the coolest places to travel.
Now the urge to march into your closet, bust out the suitcase, and get out there is stronger than the Force.
Make 2021 your year! Dust the digital dust off your Travel boards on Pinterest; grab that scribbled list of destinations like Bali, the Australian outback, Knott's Berry Farm…or even your own driveway. It's time to stop dreaming, and start going. Here are the coolest places to travel in 2021.
Unique AirBnb Getaways
Architectural Wonder in the Woods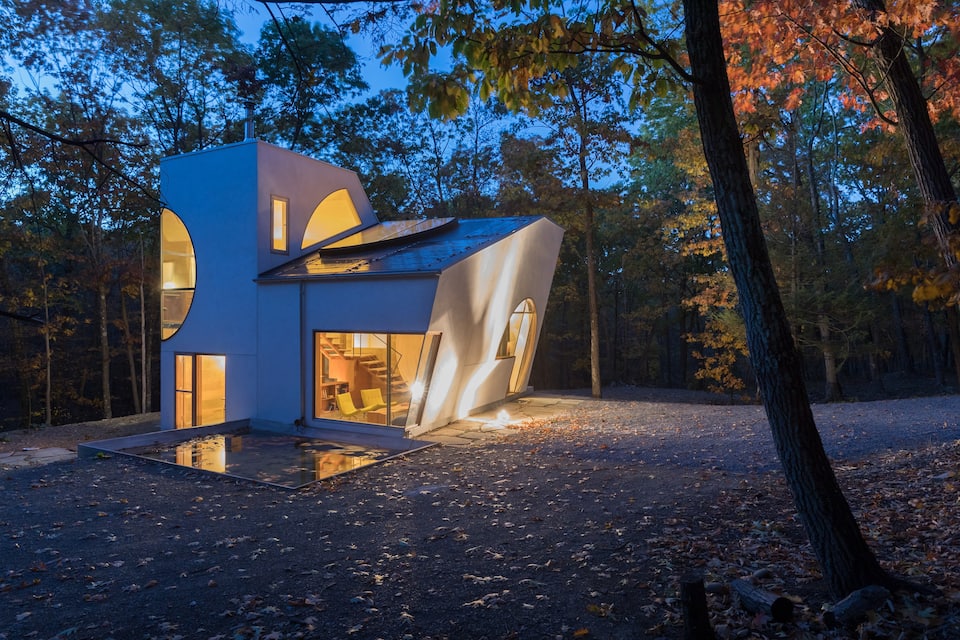 Where to Find It: Hudson Valley, New York
Why You Should Go: One-of-a-kind eco-friendly retreat
This geometric masterpiece of a home sits on 30 acres in the middle of nowhere.
It has no bedrooms: just open spaces, curved walls, and angled ceilings that take their cue straight from Mother Nature.
This is definitely a must-stop for any NYC travel guide.
Get the details here.
Modern Solar Home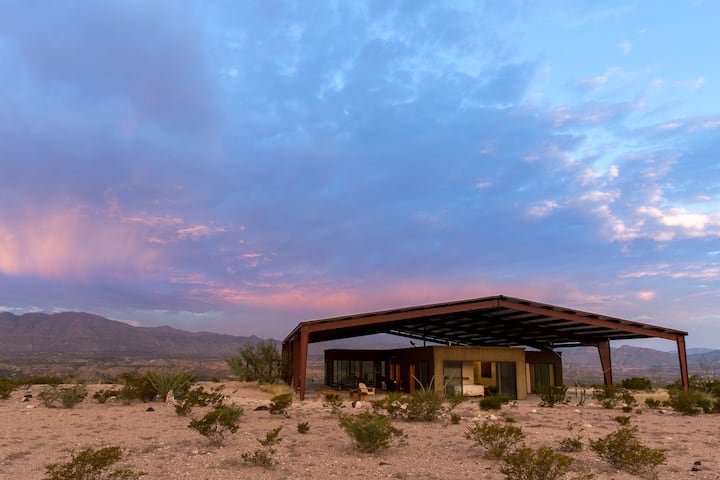 Where to Find It: Marfa, Texas
Why You Should Go: Remote, picture-perfect, not a soul in sight
For unbeatable star gazing, 360° views, and a property that boasts random Mule Deer, Elk, Javelina, and rare Bighorn Sheep—start packing!
At the top of a long gravel driveway, you'll discover a glass-walled home nestled under a large industrial open-air hangar, perched 3,000 feed over the Texan desert.
Barbecues, sunsets, incredible hiking adventures, and stunning views of the Rio Grande await. All-terrain vehicle not included, but recommended.
Get the details here.
1920's Sheep Wagon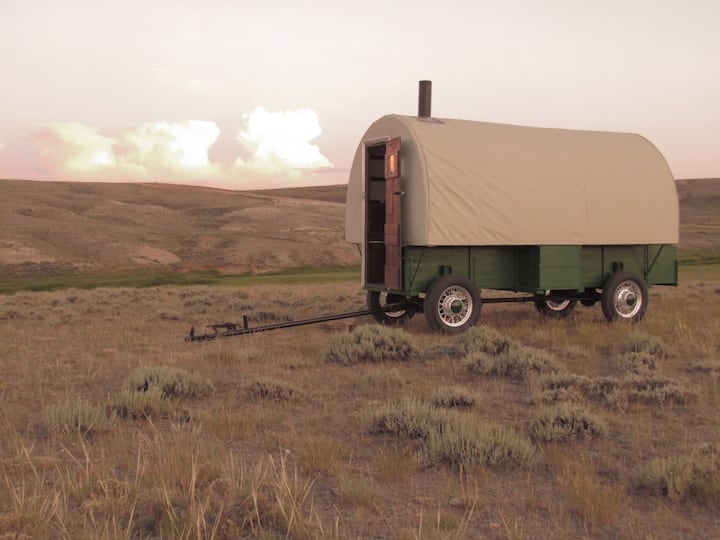 Where to Find It: Shirley Basin, Wyoming
Why You Should Go: Pioneer life meets lake-fishing, a petrified forest, and ATV trails
Get ready for some excitement in this abandoned mining town! (No, really: the last resident left in 1992.)
For big sky country and true prairie living, look no farther than this unique Air BnB. 65,000 acres sit far from the view of any freeway, airplane, or Google Maps, upon which you can rent your own little house to live like a real pioneer.
Except by "house," they really mean "sheep wagon."
The classic wagon sleeps four, and includes a generator, cold boxes for your food, and a water basin that doubles as a bathroom and kitchen sink.
Word to the wise: bring plenty of lanterns, and a herding dog if you've got one. Sheep like to wander through while grazing, so that furry guard will come in handy.
No dog? Rattling a feed bucket will move the herd along just fine, too.
Get the details here.
Big Idaho Potato Hotel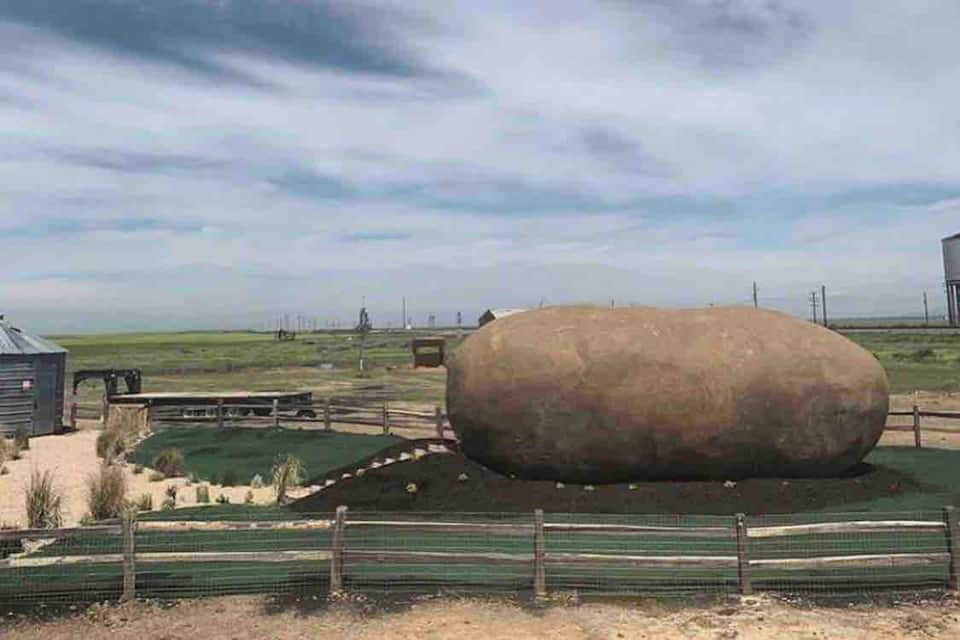 Where to Find It: Boise, Idaho
Why You Should Go: Build the perfect vacation getaway for potato lovers!
What do you call a fake potato? An imi-tater! Enjoy a quiet, spa-like vacation in this faux spud, the perfect getaway for two.
Located in Boise—voted the best place to retire, be a doctor, and raise a family—this 6-ton potato became famous after touring the United States on the back of a semi during the Idaho Potato Commission's Big Idaho Potato Tour.
Quaint and colorful inside, realistically Russet on the outside, it comes with a detached silo spa, where you'll find an open-air soak tub perfect for stargazing.
You'll also make a new friend: your very own fuzzy Jersey cow!
Get the details here.
Pirates of the Caribbean Getaway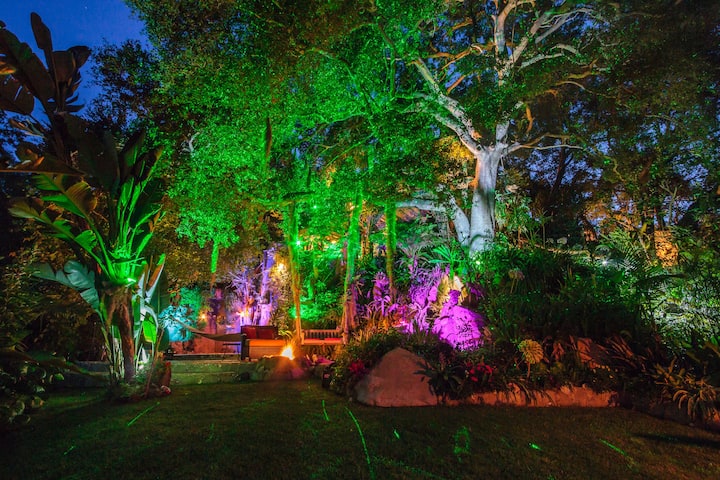 Where to Find It: Topanga Canyon, California
Why You Should Go: Theme park meets tranquil, private hideaway
Calling all cosplayers! Avast Ye and All Hand Hoy!
The most exciting thing about this cottage is the incredible attention to detail. The lighting, decor, and landscaping instantly transport you to a time when pirates ruled the seven seas.
You'll feel just as daring and brutish as your favorite swashbucklers. Pirates typically hide their vast collection of treasures, but this house has the full amenities on display, including a sauna and hot tub, DVD library, waterfalls, crystal fireplace, and hammocks for napping.
And, with Santa Monica just twenty minutes away, there's no better outing than a surf session (or a few lessons, if you're new).
Get the details here.
The Man Cave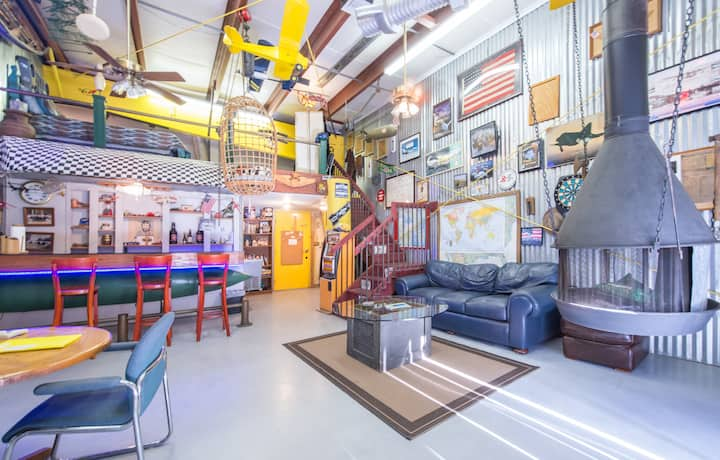 Where to Find It: Geneva, Florida
Why You Should Go: A cave with all the things for dudes.
First of all, this place is, like, totally rad. The man cave is inside an airplane hangar next to a classic car shop, which serves an extensive selection of locally crafted beer.
And if that isn't enough to bring out your inner dude, check this out: the cave is stuffed with leather sofas, a dartboard, vintage car photos, and parts from cars, airplanes, and motorcycles.
It also boasts wicker chair swings, hanging traffic lights, and a 6-foot DVD rack, which you can enjoy in conjunction with the satellite TV.
A surfboard bar, grill, pinball and slot machines, and sleeping loft complete the lineup. Duuude.
Located between Lake Harney and Lake Jesup off Route 45, the cave also allows for a pit stop at scenic Little Big Econ State Forest.
Get the details here.
Glamping
If you refuse to get your nails dirty and require a real bathroom, this glamping (glamour plus camping) list will make you feel like you never left home…-ish.
Cozy Glamping Getaway
Where to Find It: Banks, Oregon
Why You Should Go: A pond, a tent, and the woodsy hot tub thang
Experience the ultimate chill spot in this 4-walled, all-weather tent, located just over 22 miles from Portland (the perfect day trip to stay weird).
Breathe in clean, fresh air and embrace tranquility as you camp pond-side, play some volleyball or horseshoes, fit in some yoga in the refurbished barn, retreat to the hot tub, or shower in the open garden.
Last but not least, you can lose yourself in the labyrinth, and possibly find your purpose in the process…or, if nothing else, a fun time with friends.
Get the details here.
Sequoia High Sierra Camp
View this post on Instagram
Where to Find It: Sequoia King Canyon National Park, California
Why You Should Go: Couture camping with 600 thread count and maids
Once in a lifetime, you should experience Sequoia National Forest. Standing at the Redwood tree base and looking up puts you in an indescribable state of awe. Afterall ,it is one of the best national parks.
To reach the High Sierra Glampsite, you have to hike into the park one mile. It's worth every step. Upon arrival, you're greeted and then ushered towards your deluxe tent. These aren't your ordinary favorite tents, either. These are borderline cabins.
Sleep on a plush-top mattress, lounge atop artisan furniture, dine on five-course meals, and stroll through the forest on a day hike to Mitchell Peak.
Daily maid service is included, with fresh towels and toiletries! Outdoor activity packages include horseback riding and fly fishing, with craft beer and local wine service.
Don't forget, there is a 3,300-year-old forest to ogle over. Meet 5 of the world's ten tallest trees, and catch the stunning view at 9,200-foot-high Pear Lake.
PS: watch for Ewoks—you're glamping in the forest of Endor.
Get the details here.
Borealis Base Camp
Where to Find It: Fairbanks, Alaska
Why You Should Go: Sleep in a glass-roofed igloo under the Aurora Borealis
Alaska: where the four seasons are known as Winter, June, July, and August.
This bucket-list spot isn't a destination: it's an experience. Imagine bundling up in a cozy down sleeping bag in your very own igloo, taking in the shape-shifting beauty of the Aurora Borealis through the glass roof.
Day expeditions and basecamp experiences are also available, including riding snow mobiles, learning to dogsled, and feeding reindeer. Portrait sessions are available, so you don't have to worry about your phone: the magic is captured for you.
In the evening, retreat to the wood-fired sauna for a recharge.
Get the details here.
Across the Pond
If you've always daydreamed of boarding the sexy Concorde, sipping champagne, and throwing your head back to converse wittily in French—all while being flung across the Atlantic Ocean at 1,350MPH—stay-cations and local trips just won't cut it.
Here are the most unique, coolest places to travel internationally if you're ready to put in the miles.
Nolla Cabin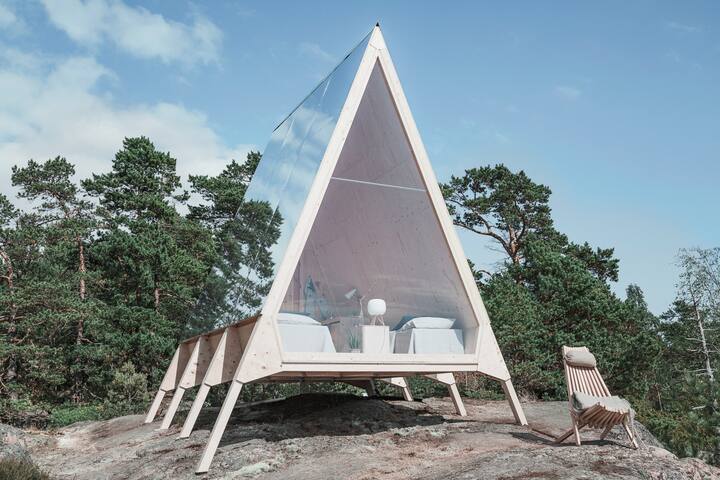 Where to Find It: Helsinki, Finland
Why You Should Go: an experiment to explore and live on less (or: kokeilla, miten voimme elää vähemmän)
Located in the birthplace of the sauna and home to the 1952 Summer Olympic Games, your destination consists of a single-room wooden A-frame cabin on a flat outcropping, overlooking an archipelago.
Pick a view, any view: no matter which way you look, nothing but nature stares back from the surrounding islands.
There's a small grouping of restaurants, as well as kayaks for rent. The Nolla cabin comes with a fuel supply and little cooking area.
Get the details here.
The Cave House
Where to Find It: Cotignac, Provence-Alpes-Côte d'Azur, France
Why You Should Go: Gives new meaning to the word "romantic"
At first glance, the Cave House' in Tuff Cliff looks impossible to access. But look closer, and you'll catch a single-window cut right into the rock wall.
Find the primitive staircase leading up and disappearing into this remarkable space overlooking the quaint village of Cotignac. When you open the door to this unique dwelling, you're instantly transported to a 16th-century Italian villa, inserted into the side of a cliff!
The space is open and bright. Bedrooms boast a warm and inviting atmosphere. The space also has an open indoor shower, a rock fireplace in the kitchen, and an upright piano for a night of festive singing and good wine.
Get the details here.
Dome Room in the Sacred Valley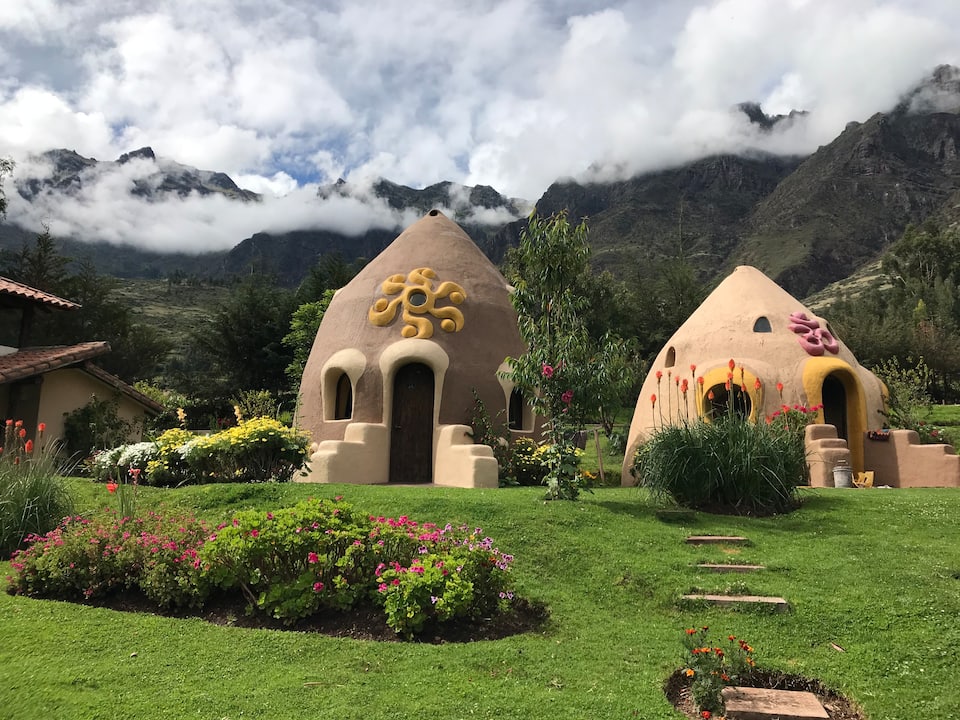 Where to Find It: Pisca, Cusco, Peru
Why You Should Go: A beautiful, peaceful place to shut down and recharge
At the going rate of less than $30 per night, you cannot beat experiencing the mystical and transformative energies surrounding the Peruvian landscape.
Nestled in a seemingly uncharted valley, each individual clay hut offers a one-of-a-kind experience, wholly stripped of modern conveniences and amenities.
(Well, there is a hot shower and WiFi, so it's not that primitive.)
Located at the base of the Apu Pachatusan Mountains in a conscious little community called "La Pacha," the Dome Room translates to utter stillness and tranquility, yet still pampering you with amenities and stunning views.
You're immersed in nature while having first-hand access to a comprehensive understanding of the Andean culture from your host. Visitors have compared this Sacred Valley to the Land of Oz.
Get the details here.
Dromen Aan Zee
Where to Find It: Friesland, Harlingen, Netherlands
Why You Should Go: Explore the Netherlands while staying in a lighthouse, lifeboat, or harbor crane
You read that right: during your trip to the magical city of Friesland, you'll have the choice to stay in a lighthouse with breathtaking panoramic views, a lifeboat with a continental breakfast (and your private captain to tour the harbor and surrounding sea), or a harbor crane, "the beacon for seafarers" who enter Harlingen harbor.
Six-course dinners and New Year's Eve packages are also available. Book early: no stone was unturned to restore these iconic Harlingen harbor landmarks.
Get the details here.
Santos Express
Where to Find It: Mossel Bay, South Africa
Why You Should Go: The romance of authentic train travel meets a crystal blue ocean
Discover nine decommissioned, beautifully restored train coach cars from historical South African Railways, all sitting parallel to a gorgeous beach. You're a one-minute walk from your accommodations to the sparkling sea.
Choose from several configurations: dorm, single, twin, double, honeymoon, mountain, or ocean view. Delight in the hot breakfast and extra-special pampering.
This little slice of heaven "has the second most moderate climate globally and has the only north-facing beach in South Africa."
Get the details here.
Destinations for Food Lovers
For the food lovers, here are three unique stays you can brag about at your next dinner party.
Chocolate Hills
First, there are the Chocolate Hills in Loboc, Bohol, Philippines. The vast jungle is dotted with cone-shaped hills that will remind you of classic Hershey's Kisses.
Staying at Nuts & Huts will cost a whopping $8 per night. With breaktaking views and friendly locals, jungle living never looked better!
Palacio de Sal
Find some balance with nature on the vast open salt flats of Bolivia, in a hotel made entirely out of—you guessed it—salt! Even the furniture and decorative sculptures in Palacio de Sal are made of the stuff.
Beyond the novelty, you'll find show-stopping sunsets and four-star service.
Ice Hotel
If salt isn't your thing, how about ice?
When looking for the coolest places to travel, you won't find anything cooler than this one…literally. Every year, the Ice Hotel, in Jukkasjärvi, Iceland, is reconstructed with 100% ice. Sleep on deerskin blankets and thick down sleeping bags.
The combination of frozen architecture and ambient lighting introduces you to Tundra silence, the northern lights, shimmering snow-covered forests, and more.
Warm rooms are available for travelers who prefer to be toasty. No judgment: you get all the same amenities, hot or cold!
Tips for the Trip
Travel may never look or feel the same again. In the meantime, there are some essential tips to pack in your brain for a more seamless adventure from departure to arrival.
Take alcohol wipes. From the moment you get out of the Uber until you pass through the TSA, and for the duration of your flight, carry portable alcohol wipes. Every traveler that came before you has touched the same surfaces, and there's no telling where those hands have been.
Due diligence. Visit the airline's website before booking to understand the cleaning protocols currently in place. Check a few days before you fly, and at the time you check-in for updates. You can also set notifications on your phone so you're informed of every single change.
Cancellation. Don't assume you're getting a refund if you cancel. Airlines have different policies, so read the fine print before clicking that "Book" button! Also, consider calling the 1-800 number. It might be easier to read the airline website FAQ, but speaking to a representative directly will alleviate any undue stress when you arrive at the airport.
Start Packing
Whatever destination has been calling you, unblock that number. It's 2021: time to put things back in motion…especially yourself. So get yourself moving with that bike tour and try to see if you can hit some of these amazing destinations
The coolest places to travel are flung far and wide. From isolated cabins to palaces made of salt, there's no telling where the new year will take you. Pack your bags.